The Coaching Habit
Say Less, Ask More & Change the Way You Lead Forever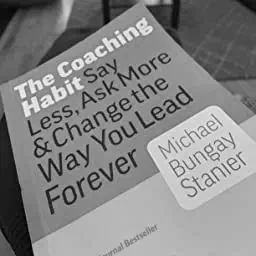 The basic premise of the book is: Shut up and listen. Assume you have much to learn.
Tame Your Advice Monster!
If you manage people or coach them, the book offers tips and insights on how to make the best use of your one-to-ones. In this book you will learn that coaching isn't about offering solutions, it's about asking questions that lead to solutions. It provides a helpful framework for asking coaching questions:
The kickstart question: "What's on your mind?"

The awe question: "And what else?"

The focus question: "What's the Real Challenge Here for You?"

The lazy question: "How Can I Help?"

The foundation question: "What do you want?"

The strategic question: "If You're Saying Yes to This, What Are You Saying No To?"

The learning question: "What was most useful for you?"
Thecoachinghabit.com offers companion training videos and downloads "that supplement and deepen your reading experience". You can also find five brief videos on YouTube illustrating each principle - they are short conversations between Marshall Goldsmith and Michael Bungay Stanier (the author). The book also refers to many business books (about building good habits, motivating employees, decision-making, etc.).
In case you are interested, I recommend that you read the printed book rather than the Kindle version. There are so many parts to underline and so many annotations to make, so a pen and paper are a must.